John Locke
The mind as a "tabula rasa"
The Human mind as a "tabula rasa"
It was statesman-philosopher Francis Bacon who, early in the seventeenth century, first strongly established the claims of Empiricism - the reliance on the experience of the senses - over those speculation or deduction in the pursuit of knowledge.

John Locke in his Essay Concerning Human Understanding restated the importance of the experience of the senses over speculation and sets out the case that the human mind at birth is a complete, but receptive, blank slate ( scraped tablet or tabula rasa ) upon which experience imprints knowledge.
Locke argued that people acquire knowledge from the information about the objects in the world that our senses bring. People begin with simple ideas and then combine them into more complex ones.

Let us then suppose the mind to be, as we say, white paper void of all characters, without any ideas. How comes it to be furnished? Whence comes it by that vast store which the busy and boundless fancy of man has painted on it with an almost endless variety? Whence has it all the materials of reason and knowledge? To this I answer, in one word, from EXPERIENCE.

Essay Concerning Human Understanding : Hernnstein & Murray, 1994, p.311

Locke definitely did not believe in powers of intuition or that the human mind is invested with innate conceptions.

In his Some Thoughts Concerning Education (1697), Locke recommended practical learning to prepare people to manage their social, economic, and political affairs efficiently. He believed that a sound education began in early childhood and insisted that the teaching of reading, writing, and arithmetic be gradual and cumulative.

In our own times the social and psychological sciences tend to take the view that Human Beings are 'formed' socially and psychologically by nature as well as by nurture and that there are inherited traits that society can build on and to some extent modify.
Explore Inner Space!!!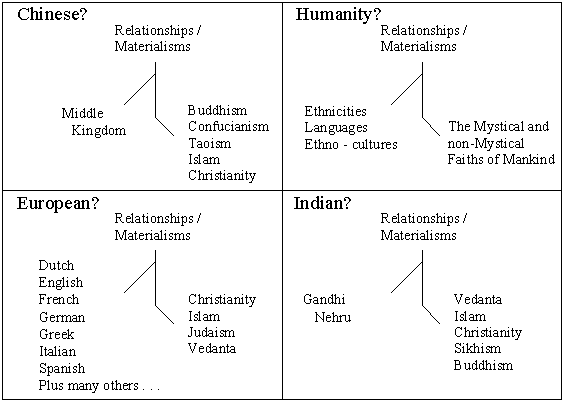 A "Human Tripartism"


Several, authoritative key insights,
(from the Great Faiths, Plato, Socrates, Pythagoras, and Shakespeare!!!),
are available on this site that give convincing support to such a "Tripartite" view of Human Nature!!!




Ralph Waldo Emerson wrote that:-

"...man is a bundle of relations, a knot of roots,
whose flower and fruitage is the world..."

~ Should this be true it would follow that Human Societies often tend to arise out of the Human Condition as directly influenced by Human Nature!
A Societal "Human Tripartism"


This view suggests that "Non-Doctrinaire" Societies themselves!!! often have a Tripartite character.
According to the seriously influential philosopher
Immanuel Kant
, in his brief work entitled "Idea for a Universal History from a Cosmopolitan Point of View" :-
"Whatever concept one may hold, from a metaphysical point of view, concerning the freedom of the will, certainly its appearances, which are human actions, like every other natural event, are determined by universal laws. However obscure their causes, history, which is concerned with narrating these appearances, permits us to hope that if we attend to the play of freedom of the human will in the large, we may be able to discern a regular movement in it, and that what seems complex and chaotic in the single individual may be seen from the standpoint of the human race as a whole to be a steady and progressive though slow evolution of its original endowment."
Or to quote Emerson, from
his famous Essay ~ History
more fully:-
"In old Rome the public roads beginning at the Forum proceeded north, south, east, west, to the centre of every province of the empire, making each market-town of Persia, Spain, and Britain pervious to the soldiers of the capital: so out of the human heart go, as it were, highways to the heart of every object in nature, to reduce it under the dominion of man. A man is a bundle of relations, a knot of roots, whose flower and fruitage is the world. His faculties refer to natures out of him, and predict the world he is to inhabit, as the fins of the fish foreshow that water exists, or the wings of an eagle in the egg presuppose air. He cannot live without a world."
This passage is also to be found in
Ralph Waldo Emerson's
Essay ~ History:-
"There is one mind common to all individual men....
....Of the works of this mind history is the record. Man is explicable by nothing less than all his history. All the facts of history pre-exist as laws. Each law in turn is made by circumstances predominant. The creation of a thousand forests is in one acorn, and Egypt, Greece, Rome, Gaul, Britain, America, lie folded already in the first man. Epoch after epoch, camp, kingdom, empire, republic, democracy, are merely the application of this manifold spirit to the manifold world."

Links to Particularly Popular Topics & Pages