Friedrich Nietzsche's
~ God is dead ~ quote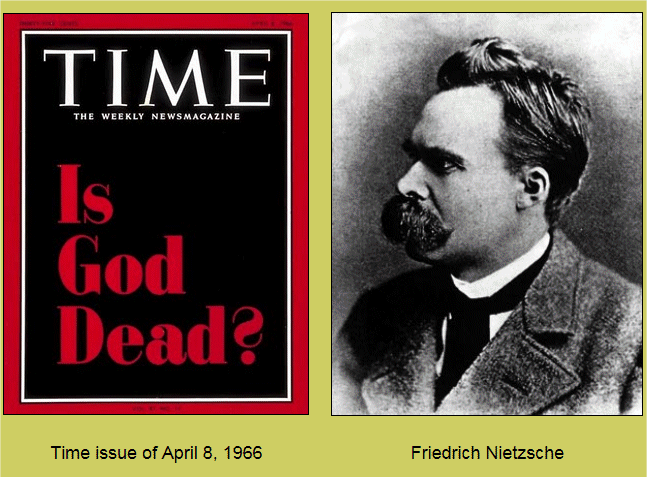 Friedrich Nietzsche is notable for having declared that God is dead and for having written several of his works in the presumption that man must find a new mode of being given the death of God.
Perhaps the most interesting quote on this theme appears in his The Gay Science ( aka Joyous Wisdom).



A fairly full version of this key ~ Parable of the Madman ~ quote is set out immediately below:-
The Parable of the Madman
Have you not heard of that madman who lit a lantern in the bright morning hours, ran to the market-place, and cried incessantly: "I am looking for God! I am looking for God!"
As many of those who did not believe in God were standing together there, he excited considerable laughter. Have you lost him, then? said one. Did he lose his way like a child? said another. Or is he hiding? Is he afraid of us? Has he gone on a voyage? or emigrated? Thus they shouted and laughed. The madman sprang into their midst and pierced them with his glances.

"Where has God gone?" he cried. "I shall tell you. We have killed him - you and I. We are his murderers. But how have we done this? How were we able to drink up the sea? Who gave us the sponge to wipe away the entire horizon? What did we do when we unchained the earth from its sun? Whither is it moving now? Whither are we moving now? Away from all suns? Are we not perpetually falling? Backward, sideward, forward, in all directions? Is there any up or down left? Are we not straying as through an infinite nothing? Do we not feel the breath of empty space? Has it not become colder? Is it not more and more night coming on all the time? Must not lanterns be lit in the morning? Do we not hear anything yet of the noise of the gravediggers who are burying God? Do we not smell anything yet of God's decomposition? Gods too decompose. God is dead. God remains dead. And we have killed him. How shall we, murderers of all murderers, console ourselves? That which was the holiest and mightiest of all that the world has yet possessed has bled to death under our knives. Who will wipe this blood off us? With what water could we purify ourselves? What festivals of atonement, what sacred games shall we need to invent? Is not the greatness of this deed too great for us? Must we not ourselves become gods simply to be worthy of it? There has never been a greater deed; and whosoever shall be born after us - for the sake of this deed he shall be part of a higher history than all history hitherto."

Here the madman fell silent and again regarded his listeners; and they too were silent and stared at him in astonishment. At last he threw his lantern to the ground, and it broke and went out. "I have come too early," he said then; "my time has not come yet. The tremendous event is still on its way, still travelling - it has not yet reached the ears of men. Lightning and thunder require time, the light of the stars requires time, deeds require time even after they are done, before they can be seen and heard. This deed is still more distant from them than the distant stars - and yet they have done it themselves."

It has been further related that on that same day the madman entered divers churches and there sang a requiem. Led out and quietened, he is said to have retorted each time: "what are these churches now if they are not the tombs and sepulchres of God?"


What Nietzsche is concerned about in relating the above is that God is dead in the hearts and minds of his own generation of modern men - killed by an indifference that was itself directly related to a pronounced cultural shift away from faith and towards rationalism and science.
This same God, before becoming dead in men's hearts and minds, had provided the foundation of a "Christian-moral" defining and uniting approach to life as a shared cultural set of beliefs that had defined a social and cutural outlook within which people had lived their lives.

Nietzsche had been raised in an intensely devout and pietistic family atmosphere that he saw as having been unduly restrictive and actually viewed what he had been brought up to recognise as Christian Morality as something which tended to be harmfully repressive.

As an atheist who saw aspects of the influence of the traditions of christianity within which he grew up as having been regrettable Friedrich Nietzsche tended to welcome what he saw as The Death of God!

For Nietzsche a recognition that God is Dead to his own generation of men and women ought to come as a Joyous Wisdom allowing individuals to lead less guilt-ridden lives in a world that was no longer to be seen as being inherently sinful. He considered that earthly lives could become more joyful, meaningful and "healthy" when not lived within narrow limits set by faith-related concerns for the state of an individual's eternal soul.

Nietzsche seems to be suggesting that the acceptance that God is dead will also involve the ending of long-established standards of morality and of purpose.
Without the former and accepted widely standards society has to face up to the possible emergence of a nihilistic situation where peoples lives are not particularly constrained by faith-based considerations of morality or particularly guided by any faith-related sense of purpose.

What are we now to do?

Given what he saw as the "unbelievability" of the "God-hypothesis" Nietzsche himself seemed to favour the creation of a new set of values "faithful to the earth." This view perhaps being associable with the possibility of the "Overman" or "Superman."



"I teach you the overman. Man is something that shall be overcome. What have you done to overcome him? All beings so far have created something beyond themselves; and do you want to be the ebb of this great flood and even go back to the beasts rather than overcome man? What is the ape to man? A laughingstock or a painful embarrassment. And man shall be just that for the overman: a laughingstock or a painful embarrassment..."
Friedrich Nietzsche ~ Thus spoke Zarathustra


"Companions, the creator seeks, not corpses, not herds and believers. Fellow creators, the creator seeks -- those who write new values on new tablets. Companions, the creator seeks, and fellow harvesters; for everything about him is ripe for the harvest. ... Fellow creators, Zarathustra seeks, fellow harvesters and fellow celebrants: what are herds and shepherds and corpses to him?"
Friedrich Nietzsche ~ Thus spoke Zarathustra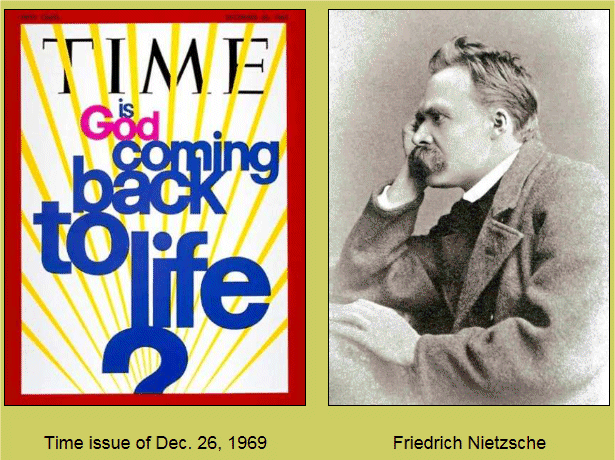 Some truly extra-ordinary wisdoms ~ a brief selection of "Central Spiritual Insights" gleaned from Christian sources closely followed by another brief selection of "Central Spiritual Insights" drawn from "non-Christian" Inter-Faith sources ~ are set out below!


A selection of "Central Spiritual Insights" gleaned from Christian sources
These Christian quotations have been selected based on their inherent Spiritual Impact, (rather than whether they might be deemed to be Catholic, Protestant or Orthodox), and come from The New International Version of The Bible.



A Disdain for Materialism

Whosoever will come after me, let him deny himself, and take up his cross, and follow me. For whosoever will save his life shall lose it; but whosoever shall lose his life for my sake and the gospel's, the same shall save it. For what shall it profit a man, if he shall gain the whole world, and lose his own soul?

Jesus



A Distrust of Intellect

So I tell you this, and insist on it in the Lord, that you must no longer live as the Gentiles do, in the futility of their thinking. They are darkened in their understanding and separated from the life of God because of the ignorance that is in them due to the hardening of their hearts.

St. Paul



Spiritual Insights are possible!

What we have received is not the spirit of the world, but the Spirit who is from God, so that we may understand what God has freely given us. This is what we speak, not in words taught us by human wisdom but in words taught by the Spirit, explaining spiritual realities with Spirit-taught words. The person without the Spirit does not accept the things that come from the Spirit of God but considers them foolishness, and cannot understand them because they are discerned only through the Spirit.

St. Paul



Charity

Dear friends, let us love one another, for love comes from God. Everyone who loves has been born of God and knows God. Whoever does not love does not know God, because God is love.

St. John



Purity of Heart

Do everything without grumbling or arguing, so that you may become blameless and pure, "children of God without fault in a warped and crooked generation." Then you will shine among them like stars in the sky as you hold firmly to the word of life...

St. Paul



Humility

Nor are you to be called 'teacher,' for you have one Teacher, the Christ. The greatest among you will be your servant. For whoever exalts himself will be humbled, and whoever humbles himself will be exalted.

Jesus



Meekness

Therefore, my beloved brethren, let every man be swift to hear, slow to speak, slow to wrath; for the wrath of man worketh not the righteousness of God.

St. James



On a Contented Life

Rejoice in the Lord always: and again I say, Rejoice. Let your moderation be known unto all men. The Lord is at hand. Be careful of nothing; but in everything by prayer and supplication with thanksgiving let your request be made known unto God. And the peace of God, which passeth all understanding, shall keep your hearts and minds through Christ Jesus. Finally, brethren, whatsoever things are honest, whatsoever things are just, whatsoever things are lovely, whatsoever things are of good report; and if there be any virtue, and if there be any praise, think on these things. Those things, which ye have both learned, and received, and heard, and seen in me, do: and the God of peace shall be with you.

St. Paul

"Central Spiritual Insights" drawn from "non-Christian" Inter-Faith sources
Our world seems to be becoming more and more "globalised" presenting us with new challenges of co-existence between cultural communities and of toleration between faith communities!

Extensive studies have been conducted into Comparative Spirituality by ourselves at age-of-the-sage and were actually undertaken before 2000 A.D. and hence prior to that difficult situation, often overstated as being an actual "Clash of Cultures," that has (however that situation should be depicted) been all too evident in recent years.
As such these studies will hopefully qualify to be considered as having adopted a somewhat open and unprejudiced consideration of the spiritual teachings of such major World Religions as Christianity, Islam, Hinduism, Buddhism, Sikhism, Taoism and Judaism.

In the following brief overview one or two quotes are presented from Buddhist, Hindu, Islamic, Jewish, Sikh and Taoist sources respectively.
Such inclusivity as this is quite clearly necessary in any genuine attempt to present a wide-ranging and profound overview of non-Christian spiritual insights.

Those inclined to look further into Comparative Spirituality can find a link to more detailed studies at the end of this initial presentation.


A Disdain for Materialism

Chuang Tzu put on cotton clothes with patches in them, and arranging his girdle and tying on his shoes, (i.e. to keep them from falling off), went to see the prince of Wei.
"How miserable you look, Sir!" Cried the prince. "It is poverty, not misery," replied Chuang Tzu. "A man who has TAO cannot be miserable. Ragged clothes and old boots make poverty, not misery."

Chuang Tzu - (Taoism)



A Distrust of Intellect

Sell your cleverness and buy bewilderment; Cleverness is mere opinion, bewilderment intuition.

Rumi - (Sufism ~ a notably mystical, minority, tradition associable with both Sunni and Shia Islam)



Spiritual Insights are possible!

The intelligence of the mean man does not rise beyond bribes and letters of recommendation. His mind is beclouded with trivialities. Yet he would penetrate the mystery of TAO and of creation, and rise to participation in the ONE. The result is that he is confounded by time and space; and that trammelled by objective existences, that he fails apprehension of that age before anything was. But the perfect man, - he carries his mind back to the period before the beginning. Content to rest in the oblivion of nowhere, passing away like flowing water, he is merged in the clear depths of the infinite.

Chuang Tzu - (Taoism)



Charity

He that does everything for Me, whose supreme object I am, who worships Me, being free from attachment and without hatred to any creature, this man, Arjuna!, comes to Me.

Bhagavad Gita ~ (Hinduism) ~ also known as ~ (Vedanta).

And my soul is absorbed
In the Love of My Lord.
Bow humbly to the saint
That is a pious act.
Bow to the ground before him
That is devotion, indeed.

The faithless know not,
The joy of the love of the Lord;

From Sohila-Arti ~ a bed-time prayer
This section of which is attributed to Guru Ram Das - (Sikhism)



Purity of Heart

The path of the just is as the shining light, that shineth more and more unto the perfect day. The way of the wicked is as darkness: they know not at what they stumble.

Solomon - (Judaism)



Humility

Would you become a pilgrim on the road of love? The first condition is that you make yourself humble as dust and ashes.

Ansari of Herat - (Islam)



Meekness

Let a man overcome anger by love, let him overcome evil by good; let him overcome the greedy by liberality, the liar by truth! Speak the truth, do not yield to anger; give, if thou art asked for little; by these three steps thou wilt go near the gods.

Dhammapada - (Buddhism)



On a Contented Life

There is a way which seemeth right unto a man, but the end thereof are the ways of death.
Even in laughter the heart is sorrowful; and the end of that mirth is heaviness.
The backslider in heart shall be filled with his own ways: and a good man shall be satisfied from himself.

Book of Proverbs - (Judaism)



Two particularly noteworthy Faith versus Reason quotes from "non-Christian" sources now follow:-


"Would he had been less full of borrowed knowledge! Then he would have accepted inspired knowledge from his father. When, with inspiration at hand, you seek book-learning, your heart, as if inspired, loads you with reproach. Traditional knowledge, when inspiration is available, is like making ablutions in sand when water is near. Make yourself ignorant, be submissive, and then you will obtain release from your ignorance."

Rumi

- (Sufism / Islam)

Rumi lived 1207 - 1273, (by the western calendar).

A BBC "Culture" web page of April, 2014

has said of him:-

The ecstatic poems of Jalal ad-Din Muhammad Rumi, a Persian poet and Sufi master born 807 years ago in 1207, have sold millions of copies in recent years, making him the most popular poet in the US. Globally, his fans are legion.




Vivekananda, (the name-in-religion

Vivekananda

translates as - The Bliss of Discerning Wisdom), was a Vedic scholar and Hindu sage who made an appearance at the Parliament of World Religions that convened in Chicago in 1893 and was generally recognised as having made a singularly important contribution to the proceedings:-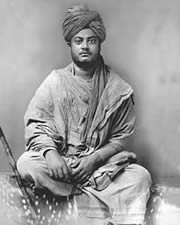 "When there is conflict between the heart and the brain, let the heart be followed, because intellect has only one state, reason, and within that intellect works, and cannot get beyond. It is the heart which takes one to the highest plane, which intellect can never reach; it goes beyond the intellect, and reaches what is called inspiration. Intellect can never become inspired; only the heart when it is enlightened, becomes inspired. An intellectual, heartless man can never become an inspired man. It is always the heart that speaks in the man of love; it discovers a greater instrument than intellect can give you, the instrument of inspiration. Just as the intellect is the instrument of knowledge, so is the heart the instrument of inspiration."
Ralph Waldo Emerson

RALPH WALDO EMERSON (1803-1882) was, in his time, the leading voice of intellectual culture in the United States. He remains widely influential to this day through his essays, lectures, poems, and philosophical writings.

In the later eighteen-twenties Ralph Waldo Emerson read, and was very significantly influenced by, a work by a French philosopher named Victor Cousin.

A key section of Cousin's work reads as follows:


"What is the business of history? What is the stuff of which it is made? Who is the personage of history? Man : evidently man and human nature. There are many different elements in history. What are they? Evidently again, the elements of human nature. History is therefore the development of humanity, and of humanity only; for nothing else but humanity develops itself, for nothing else than humanity is free. …
… Moreover, when we have all the elements, I mean all the essential elements, their mutual relations do, as it were, discover themselves. We draw from the nature of these different elements, if not all their possible relations, at least their general and fundamental relations."
Introduction to the History of Philosophy (1829)


Even before he had first read Cousin, (in 1829), Emerson had expressed views in his private Journals which suggest that he accepted that Human Nature, and Human Beings, tend to display three identifiable aspects and orientations:


Imagine hope to be removed from the human breast & see how Society will sink, how the strong bands of order & improvement will be relaxed & what a deathlike stillness would take the place of the restless energies that now move the world. The scholar will extinguish his midnight lamp, the merchant will furl his white sails & bid them seek the deep no more. The anxious patriot who stood out for his country to the last & devised in the last beleagured citadel, profound schemes for its deliverance and aggrandizement, will sheathe his sword and blot his fame. Remove hope, & the world becomes a blank and rottenness. (Journal entry made between October and December, 1823)

In all districts of all lands, in all the classes of communities thousands of minds are intently occupied, the merchant in his compting house, the mechanist over his plans, the statesman at his map, his treaty, & his tariff, the scholar in the skilful history & eloquence of antiquity, each stung to the quick with the desire of exalting himself to a hasty & yet unfound height above the level of his peers. Each is absorbed in the prospect of good accruing to himself but each is no less contributing to the utmost of his ability to fix & adorn human civilization. (Journal entry of December, 1824)

Our neighbours are occupied with employments of infinite diversity. Some are intent on commercial speculations; some engage warmly in political contention; some are found all day long at their books … (This dates from January - February, 1828)


The quotes from Emerson are reminiscent of a line from another "leading voice of intellectual culture" - William Shakespeare.


There's neither honesty, manhood, nor good fellowship in thee.
William Shakespeare: Henry IV (Pt 1), Act I, Scene II


Plato, Socrates and Shakespeare endorse a 'Tripartite Soul' view of Human Nature. Platos' Republic


"The first glance at History convinces us that the actions of men proceed from their needs, their passions, their characters and talents; and impresses us with the belief that such needs, passions and interests are the sole spring of actions."
Georg Hegel, 1770-1831, German philosopher, The Philosophy of History (1837)





Is Human Being more truly Metaphysical than Physical?

Where this could, possibly, lead ...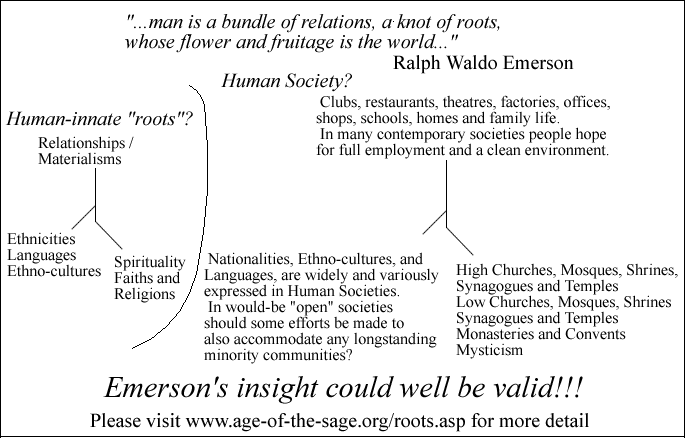 N. B. The page mentioned in the graphic ~ roots.asp ~
has been replaced by this page

This 'knot of roots' insight features in: